Brown's RV Product Sheet
Northern California's Best RV Choice!
---
---
Aljo Model 228, 228 Layton, Nomad 228 25'7" by Skyline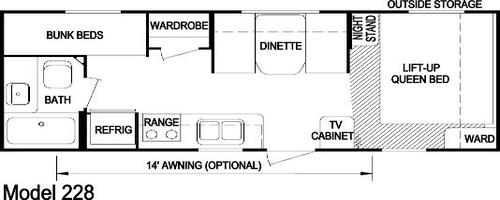 ---
---
Click on image to enlarge
Model 228TT ALJO Nomad Layton by Skyline
Let's take a close look at this compact model! This is a true family coach – lightweight and truly affordable. Up front is a full bedroom with wardrobe & lift-up queen bed. In the center is the convertible dinette w/entertainment including flat screen tv with wall mounts inside and out. On the curb side is the kitchen with all the essentials. There's a window over the double sink. In fact there's good cross viewing throughout this coach. At the rear is a nice bath with tub Shower and vanity. We won't miss the full size convenient closet. There are new materials throughout. Tile like vinyl flooring and shower surround. The valence over the shower is a nict touch as well. But the really neat feature in the back are the twin bunk beds. This travel trailer comes can be towed with any properly equipped 1/2T rated vehicle. It has a 14' awning included and two 20# propane tanks. (Filled). as well.
click here for 2008 interior choices.
---
---
View a Printable Page
(use back button to return)
CALL BROWN'S FOR THE BEST PRICES IN RV's
707-994-9418 1-800-794-9418
Go to:
INVENTORY CHART
---
FINANCING AVAILABLE!
Credit Application
---
DIRECTIONS:
Distant Map Local Map