Brown's RV Product Sheet
Northern California RV Best Choice!
---
---
THOR JAZZ Model 3070 Wheel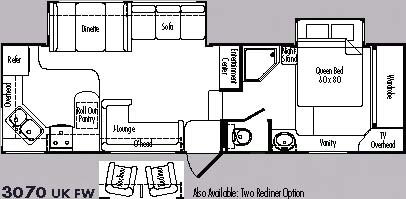 ---
---
Click on image to enlarge
THOR JAZZ Model 3070 Fifth Wheel Rolling Residence
This model 3070 mid height, mid range fifth wheel has several significant additions to it's Model 2870 twin: The 60" X 80" queen bed now sits on a slide with windows on both sides. There's a full width vanity at the foot with a TV cabinet and it's own window above as well. A mirrored wardrobe extends across the front.
Then the adjacent walk through bath has a large corner shower plus an enclosed room with deluxe window and blind for the pedal operated china toilet. From here it's just two gentle steps down into the center living area revealing the unique "J" lounge accross from the slide mounted sofa bed. The built in Home Entertainment Center is visible from the large galley which extends the full 102" width of the rear. The slide mounted dinette completes this apartment style very livable plan.
To explain all the desired ammenities would take pages so we've listed them on a separate page. No comprimises here at all. Click "Standard Features" below...
QUALITY... COMFORT... PIZAZZ... That's JAZZ!
---
click here for 2009 full brochure
---
View a Printable Page
(use back button to return)
---
CALL BROWN'S FOR THE BEST PRICES IN RV's
707-994-9418 1-800-794-9418
Go to:
INVENTORY CHART
---
FINANCING AVAILABLE!
Credit Application
---
DIRECTIONS:
Distant Map Local Map